Product Summary
The MCP4728-E/UN is a Quad Digital-to-Analog Converter. The MCP4728-E/UN is a quad, 12-bit voltage output Digital-to-Analog Convertor (DAC) with non-volatile memory (EEPROM). Its on-board precision output amplifier allows it to achieve rail-to-rail analog output swing. The MCP4728-E/UN has a high precision internal voltage reference (VREF = 2.048V). The user can select the internal reference or external reference (VDD) for each channel individually.The applications of the MCP4728-E/UN include Set Point or Offset Adjustment, Sensor Calibration, Closed-Loop Servo Control, Low Power Portable Instrumentation, PC Peripherals, Programmable Voltage and Current Source, Industrial Process Control and Instrumentation.
Parametrics
MCP4728-E/UN absolute maximum ratings: (1)VDD : 6.5V; (2)All inputs and outputs w.r.t VSS : –0.3V to VDD+0.3V; (3)Current at Input Pins : ±2 mA; (4)Current at Supply Pins : ±110 mA; (5)Current at Output Pins : ±25 mA; (6)Storage Temperature : -65℃ to +150℃; (7)Ambient Temp. with Power Applied : -55℃ to +125℃; (8)ESD protection on all pins : ≧ 4 kV HBM, ≧ 400V MM; (9)Maximum Junction Temperature (TJ) : +150℃.
Features
MCP4728-E/UN features: (1)12-Bit Voltage Output DAC with 4 Buffered Outputs; (2)On-Board Non-Volatile Memory (EEPROM) for DAC Codes and I2CTM Address Bits; (3)Internal or External Voltage Reference Selection; (4)±0.2 LSB DNL (typical); (5)Fast Settling Time: 6 μs (typical); (6)Normal or Power-Down Mode; (7)Low Power Consumption; (8)Single-Supply Operation: 2.7V to 5.5V; (9)10-Lead MSOP Package; (10)Extended Temperature Range: -40℃ to +125℃.
Diagrams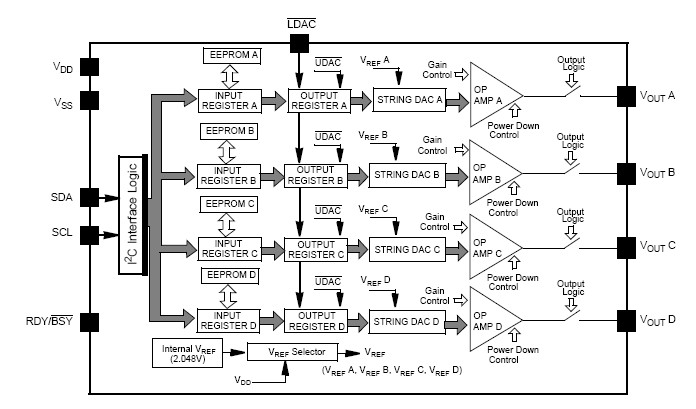 Image
Part No
Mfg
Description
Pricing
(USD)
Quantity

MCP4728-E/UN

Microchip Technology

DAC (D/A Converters) Quad 12-bit NV DAC with I2C interface

Data Sheet



| | |
| --- | --- |
| 0-1: | $1.24 |
| 1-10: | $1.13 |
| 10-25: | $0.95 |
| 25-100: | $0.86 |

Image
Part No
Mfg
Description
Pricing
(USD)
Quantity

MCP4011-103E/MS

Microchip Technology

Digital Potentiometer ICs 10k U/D single 6-bit V POT

Data Sheet



| | |
| --- | --- |
| 0-1: | $0.32 |
| 1-10: | $0.31 |
| 10-25: | $0.26 |
| 25-100: | $0.23 |


MCP4011-103E/SN

Microchip Technology

Digital Potentiometer ICs 10k U/Dsingle 6-bit V POT

Data Sheet



| | |
| --- | --- |
| 0-1: | $0.32 |
| 1-10: | $0.31 |
| 10-25: | $0.26 |
| 25-100: | $0.23 |


MCP4011-502E/SN

Microchip Technology

Digital Potentiometer ICs 5k U/Dsingle 6-bit V POT

Data Sheet



| | |
| --- | --- |
| 0-1: | $0.32 |
| 1-10: | $0.31 |
| 10-25: | $0.26 |
| 25-100: | $0.23 |


MCP4011-503E/MS

Microchip Technology

Digital Potentiometer ICs 50k U/Dsingle 6-bit V POT

Data Sheet



| | |
| --- | --- |
| 0-1: | $0.32 |
| 1-10: | $0.31 |
| 10-25: | $0.26 |
| 25-100: | $0.23 |


MCP4011T-502E/SN

Microchip Technology

Digital Potentiometer ICs 5k U/Dsingle 6-bit V POT

Data Sheet



| | |
| --- | --- |
| 0-2300: | $0.23 |
| 2300-3300: | $0.23 |


MCP4011T-202E/MC

Microchip Technology

Digital Potentiometer ICs 2.1k U/Dsingle 6-bit V POT

Data Sheet



| | |
| --- | --- |
| 0-2300: | $0.23 |
| 2300-3300: | $0.23 |