Product Summary
The MCP130T-270I/TT is a voltage supervisory device designed to keep a microcontroller in reset until the system voltage has reached the proper level and stabilized. It also operates as protection from brown-out conditions when the supply voltage drops below a safe operating level. Both devices are available with a choice of seven different trip voltages and both have open drain outputs. The MCP130T-270I/TT has an internal 5 kΩ pullup resistor. Both devices have active low RESET pins. The MCP130T-270I/TT will assert the RESET signal whenever the voltage on the V DD pin is below the trip-point voltage.
Parametrics
MCP130T-270I/TT absolute maximum ratings: (1)VDD: 7.0V; (2)All inputs and outputs w.r.t. V SS: -0.6V to V DD +1.0V; (3)Storage temperature: -65 to +150℃; (4)Ambient temp. with power applied: -65 to +125℃; (5)ESD protection on all pins: ≥ 2 kV.
Features
MCP130T-270I/TT features: (1)Holds microcontroller in reset until supply voltage reaches stable operating level; (2)Resets microcontroller during power loss; (3)Precision monitoring of 3V, 3.3V and 5V systems; (4)7 voltage trip points available; (5)Active low RESET pin; (6)Open drain output ; (7)Internal pull-up resistor (5 kΩ ) for MCP130; (8)Holds RESET for 350 ms (typical); (9)RESET to VCC = 1.0V; (10)Accuracy of ±125 mV for 5V systems and ±75 mV for 3V systems over temperature; (11)45 μA typical operating current; (12)Temperature range: Industrial (I): -40 to +85℃.
Diagrams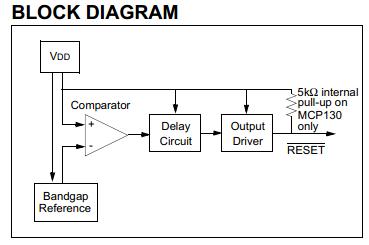 Image
Part No
Mfg
Description
Pricing
(USD)
Quantity

MCP130T-270I/TT

Microchip Technology

Supervisory Circuits w/5K Pull-Up Low

Data Sheet



| | |
| --- | --- |
| 0-1: | $0.34 |
| 1-10: | $0.27 |
| 10-25: | $0.22 |
| 25-100: | $0.20 |

Image
Part No
Mfg
Description
Pricing
(USD)
Quantity

MCP100

Other



Data Sheet

Negotiable

MCP100-270DI/TO

Microchip Technology

Supervisory Circuits Push-Pull Low

Data Sheet



| | |
| --- | --- |
| 0-1: | $0.26 |
| 1-10: | $0.20 |
| 10-25: | $0.17 |
| 25-100: | $0.16 |


MCP100-270HI/TO

Microchip Technology

Supervisory Circuits Push-Pull Low

Data Sheet



| | |
| --- | --- |
| 0-1: | $0.26 |
| 1-10: | $0.20 |
| 10-25: | $0.17 |
| 25-100: | $0.16 |


MCP100-300DI/TO

Microchip Technology

Supervisory Circuits Push-Pull Low

Data Sheet



| | |
| --- | --- |
| 0-1: | $0.26 |
| 1-10: | $0.20 |
| 10-25: | $0.17 |
| 25-100: | $0.16 |


MCP100-300HI/TO

Microchip Technology

Supervisory Circuits Push-Pull Low

Data Sheet



| | |
| --- | --- |
| 0-1: | $0.26 |
| 1-10: | $0.20 |
| 10-25: | $0.17 |
| 25-100: | $0.16 |


MCP100-315DI/TO

Microchip Technology

Supervisory Circuits Push-Pull Low

Data Sheet



| | |
| --- | --- |
| 0-1: | $0.26 |
| 1-10: | $0.20 |
| 10-25: | $0.17 |
| 25-100: | $0.16 |