Product Summary
The C2012X5R1C106M is a general multilayer ceramic chip capacitor.
Parametrics
C2012X5R1C106M maximum ratings: (1)Vendor TDK: Corporation; (2)Category: Capacitors; (3)Capacitance: 10μF; (4)Voltage - Rated: 10V; (5)Tolerance: ±10%; (6)Package / Case: 0805 (2012 Metric); (7)Temperature Coefficient: X5R; (8)Packaging: Tape & Reel (TR); (9)Operating Temperature: -55℃ ~ 85℃; (10)Mounting Type: Surface Mount, MLCC; (11)Lead Free Status: Lead Free; (12)RoHS Status: RoHS Compliant.
Features
C2012X5R1C106M features: (1)High capacitance has been achieved through precision technologies that enable the use of multiple thinner ceramic dielectric layers; (2)A monolithic structure ensures superior mechanical strength and reliability; (3)High-accuracy automatic mounting is facilitated through the maintenance of very precise dimensional tolerances; (4)Composed of only ceramics and metals, these capacitors provide extremely dependable performance, exhibiting virtually no degradation even when subjected to temperature extremes.
Diagrams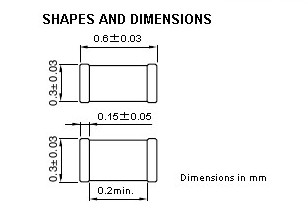 Image
Part No
Mfg
Description
Pricing
(USD)
Quantity

C2012X5R1C106M

TDK

Multilayer Ceramic Capacitors (MLCC) - SMD/SMT 0805 10uF 16volts X5R 20%

Data Sheet



| | |
| --- | --- |
| 0-1: | $0.26 |
| 1-50: | $0.20 |
| 50-100: | $0.13 |
| 100-500: | $0.08 |


C2012X5R1C106M/0.85

TDK

Multilayer Ceramic Capacitors (MLCC) - SMD/SMT 10uF 20% 16Volts

Data Sheet

Negotiable

C2012X5R1C106MT/0.85

TDK

Multilayer Ceramic Capacitors (MLCC) - SMD/SMT 10uF 20% 16Volts

Data Sheet



| | |
| --- | --- |
| 0-1: | $0.25 |
| 1-50: | $0.22 |
| 50-100: | $0.20 |
| 100-500: | $0.06 |


C2012X5R1C106MT/1.25

TDK

Multilayer Ceramic Capacitors (MLCC) - SMD/SMT 10uF 20% 16Volts

Data Sheet



| | |
| --- | --- |
| 0-1: | $0.26 |
| 1-50: | $0.20 |
| 50-100: | $0.13 |
| 100-500: | $0.08 |


C2012X5R1C106M/1.25

TDK

Multilayer Ceramic Capacitors (MLCC) - SMD/SMT 10uF 20% 16Volts

Data Sheet

Negotiable